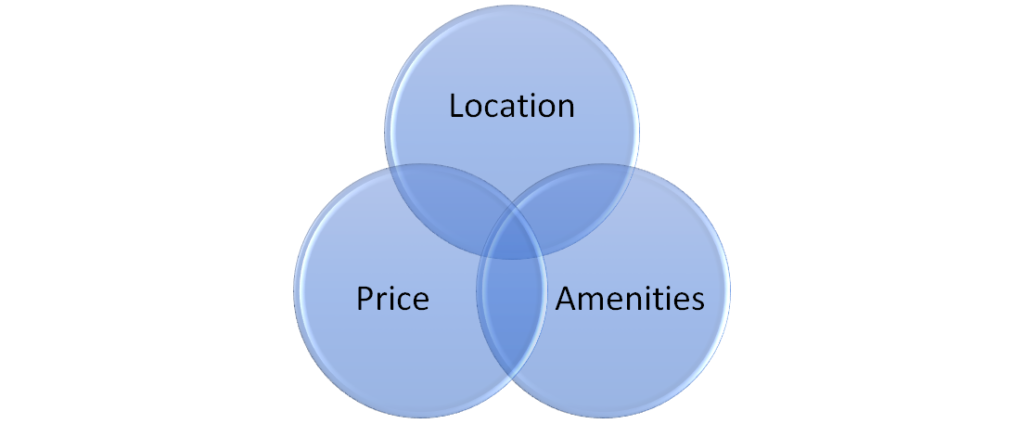 Unless you have an unlimited budget, finding a great apartment requires balance and compromise. Rarely will it be the perfect fit, after all, that's why you're renting instead of buying. For apartments, the three main search criteria are Price, Location, and Amenities.
Price
Your budget will dictate how much you can afford. It will also narrow the location and amenities available to you. By far this is the most important of the three criteria and a few extra dollars you can afford to spend will get you into a better apartment. Don't forget to factor in the cost of utilities like heat, hot water, and electric when comparing apartments. Also know that how much you think you can afford is only part of the equation…the landlord will look at your rent-to-income ratio when reviewing your application. Usually, they like to see no more than 30-35% of your monthly income going towards housing expenses.
Location
What location will make your work/life balance the most ideal? The goal is to improve upon your existing situation. Often that means moving closer to work, school, or family. Being closer to public transportation or the highway can reduce your daily stress. The location also encompasses neighborhood amenities like proximity to a grocery store, coffee shop, restaurants, dry cleaner, and park.
Amenities
Amenities covers all of the specific in-apartment features like the number of bedrooms, bathrooms, and appliances. Based on your specific needs, you might require a pet-friendly apartment which can be harder to find. Off-street parking, a roof deck, elevator, dishwasher, and in-unit washer and dryer are all amenities that will usually add to the price. So amenities tend to be the area where renters compromise the most if the location and price are right. But sometimes an amenity, like a dog-friendly place, becomes a need instead of want and price or location become more flexible.
A wants and needs analysis can help you narrow down your scope. As a renter's agent, Blackacre works exclusively for you as a fiduciary to find the best possible apartment. We'll set you up to receive periodic e-mails of what's on the market that meets your needs. We can always adjust the price, location, and amenities until we find something that fits.